We are proud to announce the launch of Alexa Translations A.I. version 4.0!
This latest release introduces several groundbreaking new features and a number of platform improvements to make your translation workflows more efficient and your outputs more accurate.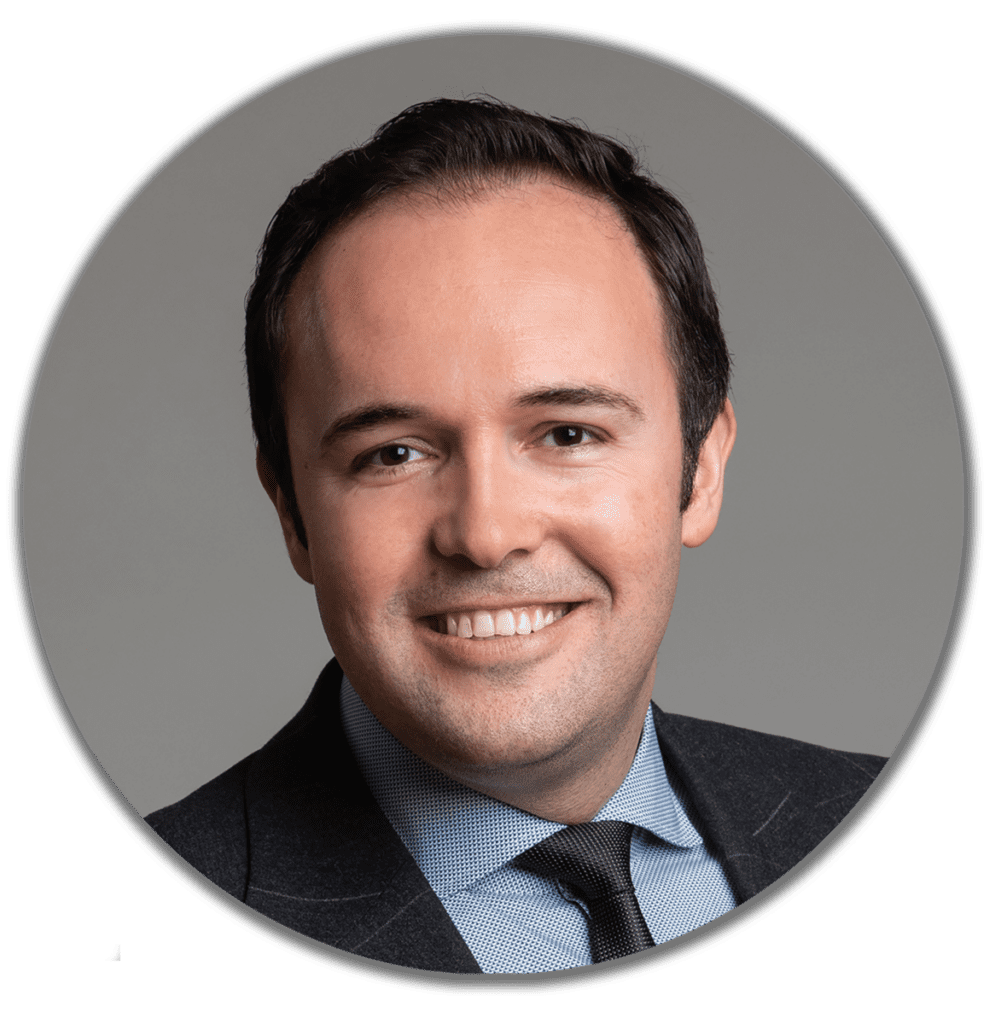 "We are continually engaging with our users to better understand their needs and provide updates to the platform that have a positive impact on their workflow," said Gary Kalaci, the CEO of Alexa Translations.
"The latest version 4.0 introduces two features we are incredibly proud of: the A.I. Optimizer and Adaptive A.I., as well as a number of amendments to the platform's architecture for ease of use and enhanced productivity."
Adaptive Translations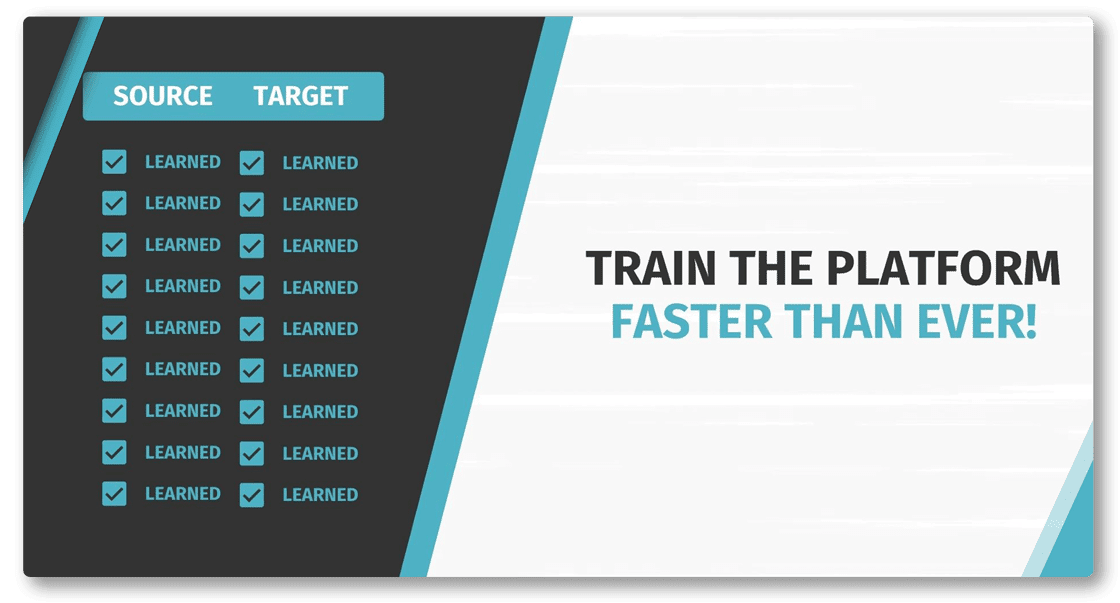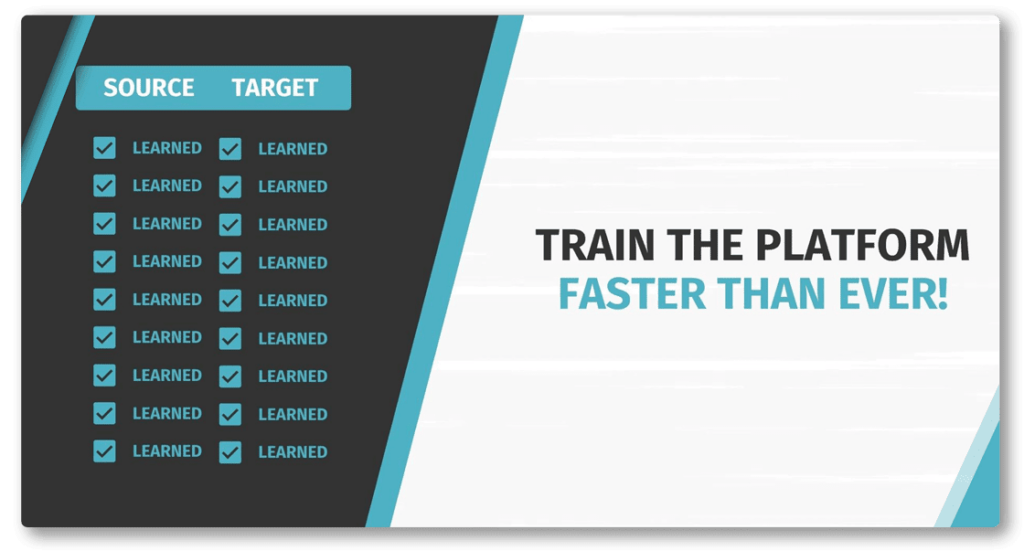 Welcome to the next iteration of A.I. machine translations: Adaptive Translations.
Add Adaptive Translations to your Alexa Translations A.I. subscription and supercharge your workflow. In fact, by using Adaptive Translations, you can train the platform in the specifics of a client or department faster than ever before! Accuracy is further improved by adding multiple Adaptive Translations projects to train the A.I. for each unique area of your organization, resulting in more relevant and appropriate translations for each application.
Maximize the accuracy of your translations while reducing the need for laborious post-editing. Add Adaptive Translations today!
A.I. Optimizer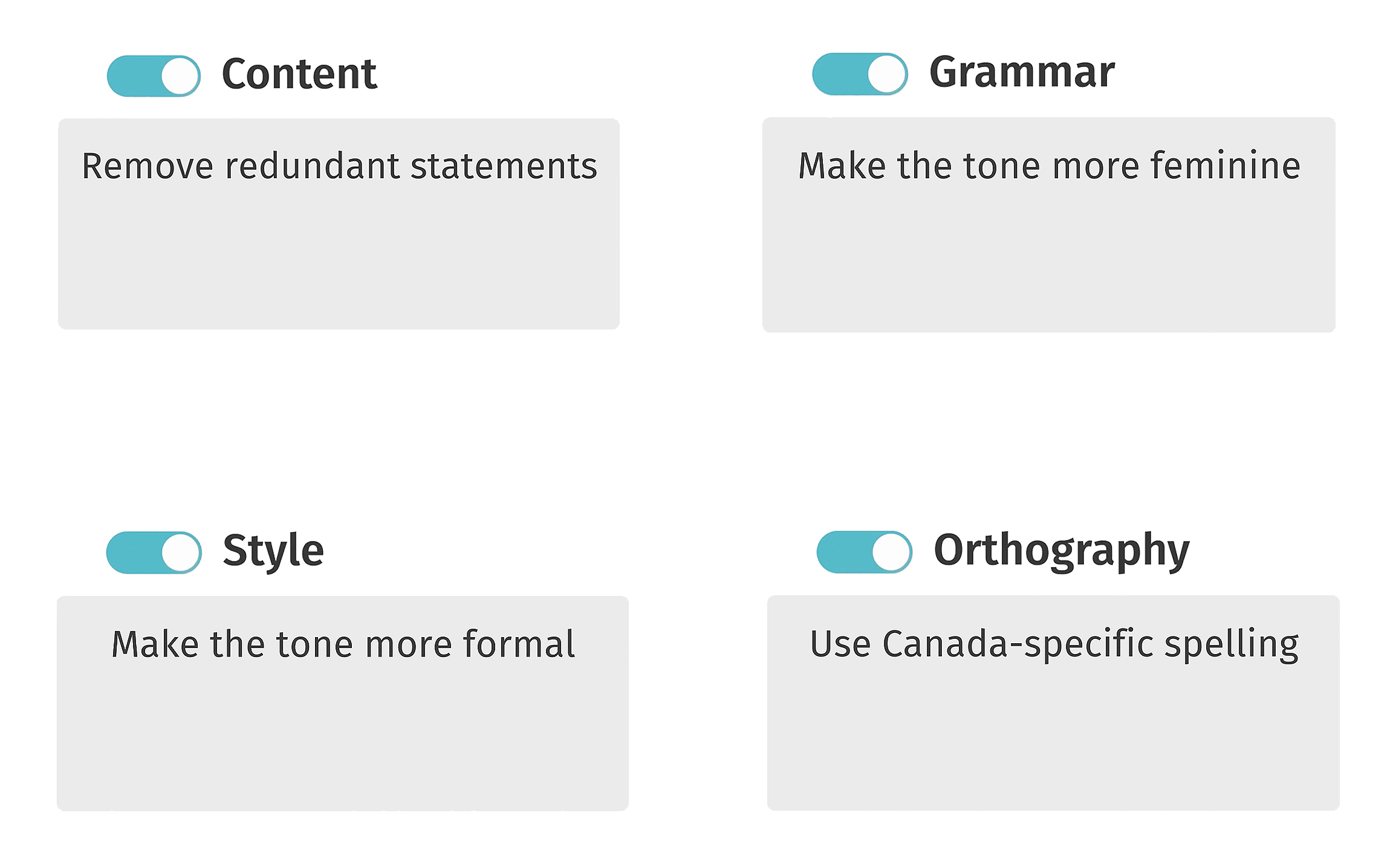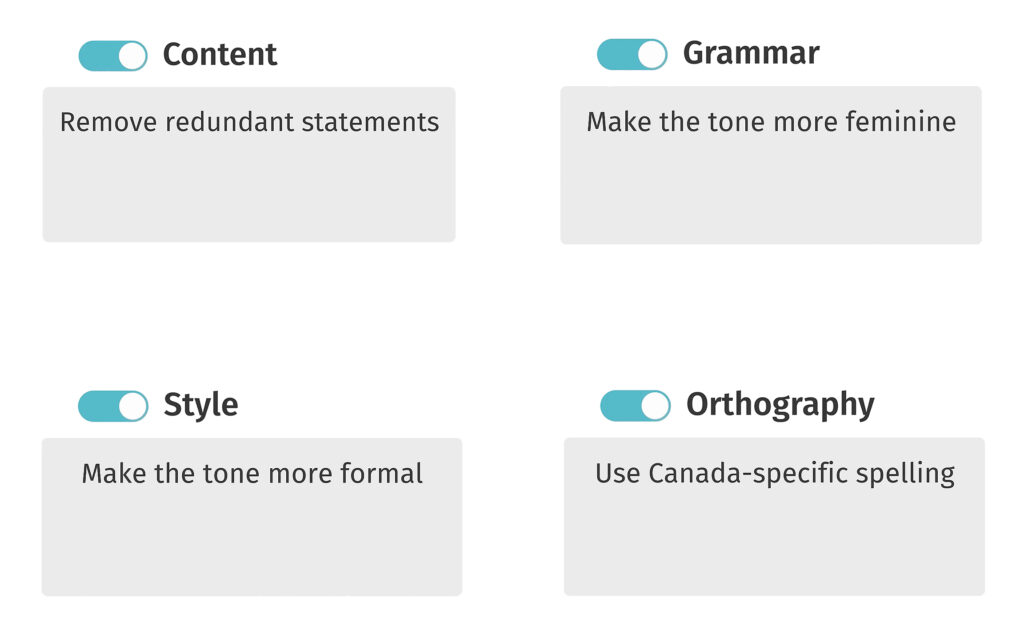 In order to truly break language barriers, it is not enough to translate documents or correspondence from one language to another. Often, to ensure the translation meets the requirements of its intended purpose, it is vital to take the context, tone, intention, style, and field of industry into account. This is where the A.I. Optimizer comes in, enabling users to optimize any translated text for best results.
The A.I. Optimizer ensures faster and easier post-editing of the initial machine translation output by allowing users to review a translation and request updates. These updates could be anything from reviewing punctuation to amending the language used to be more in line with the document's envisioned purpose, such as using terminology specific to the legal industry or your firm's unique preferences.
Through this process of A.I.-facilitated post-translation-editing, tasks like quality checking and language revision become almost effortless through the use of selected and text-based prompts.
AT Anywhere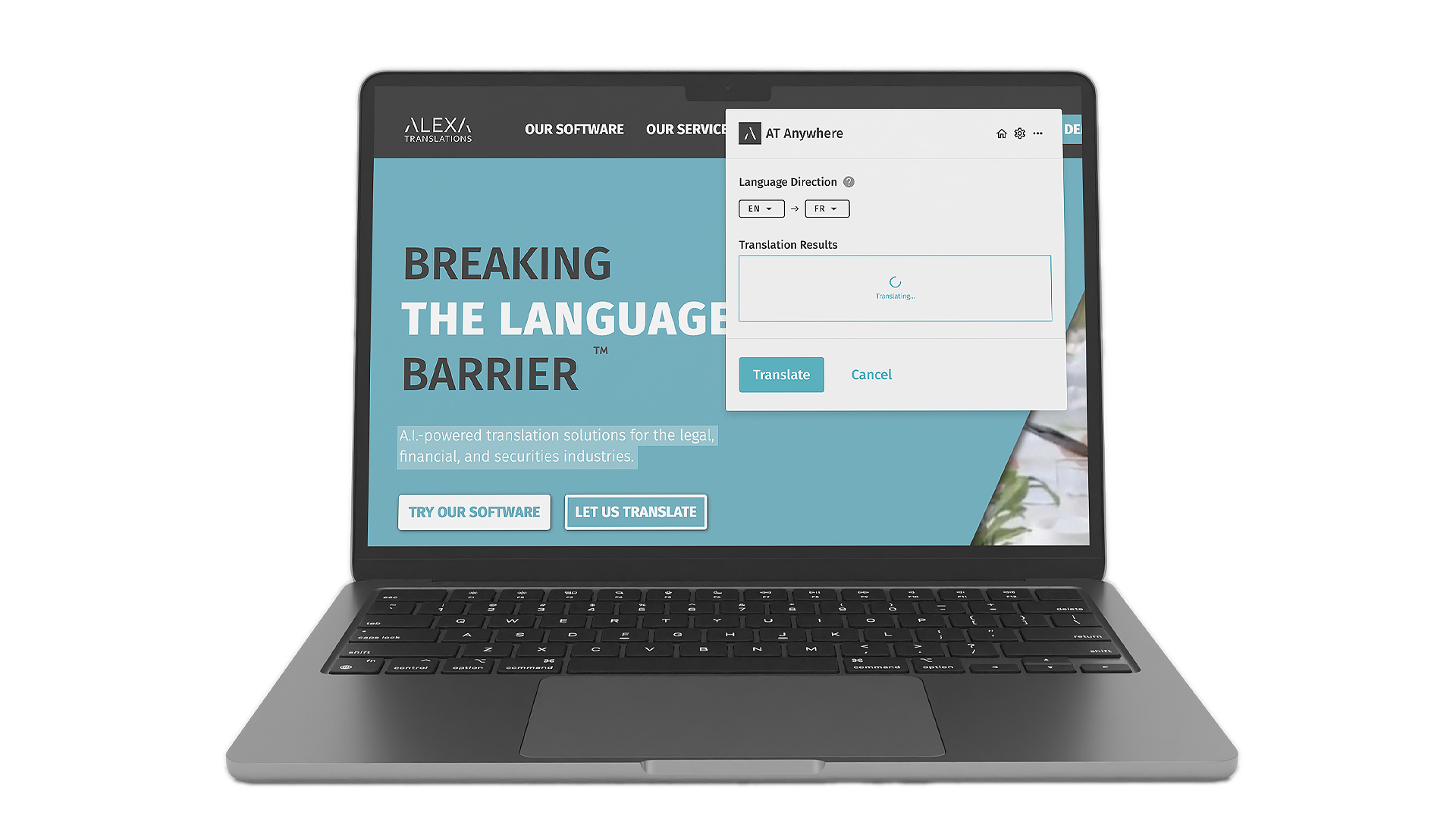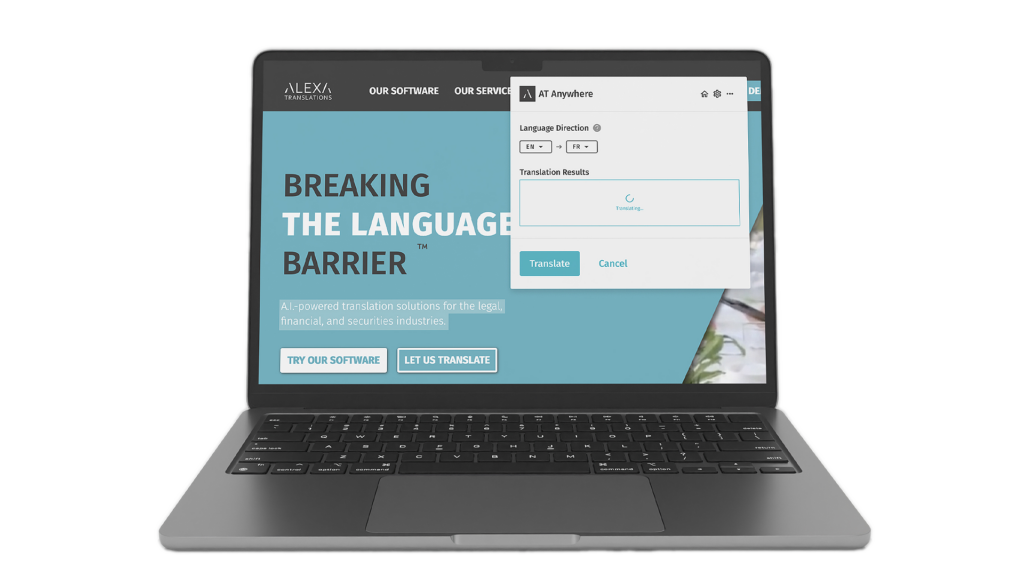 Translating text on-the-fly can be cumbersome. AT Anywhere aims to improve your productivity by ensuring the Alexa Translations A.I. is always available across different applications.
This new desktop application will allow you to translate any selectable text on your screen, unlocking a world of possibilities and enhancing the productivity of multilingual work units, facilitating quick communication across languages.
Translate in Microsoft Outlook
The Alexa Translations A.I. version 4.0 now integrates directly with Microsoft Outlook, empowering users to translate emails without leaving Outlook.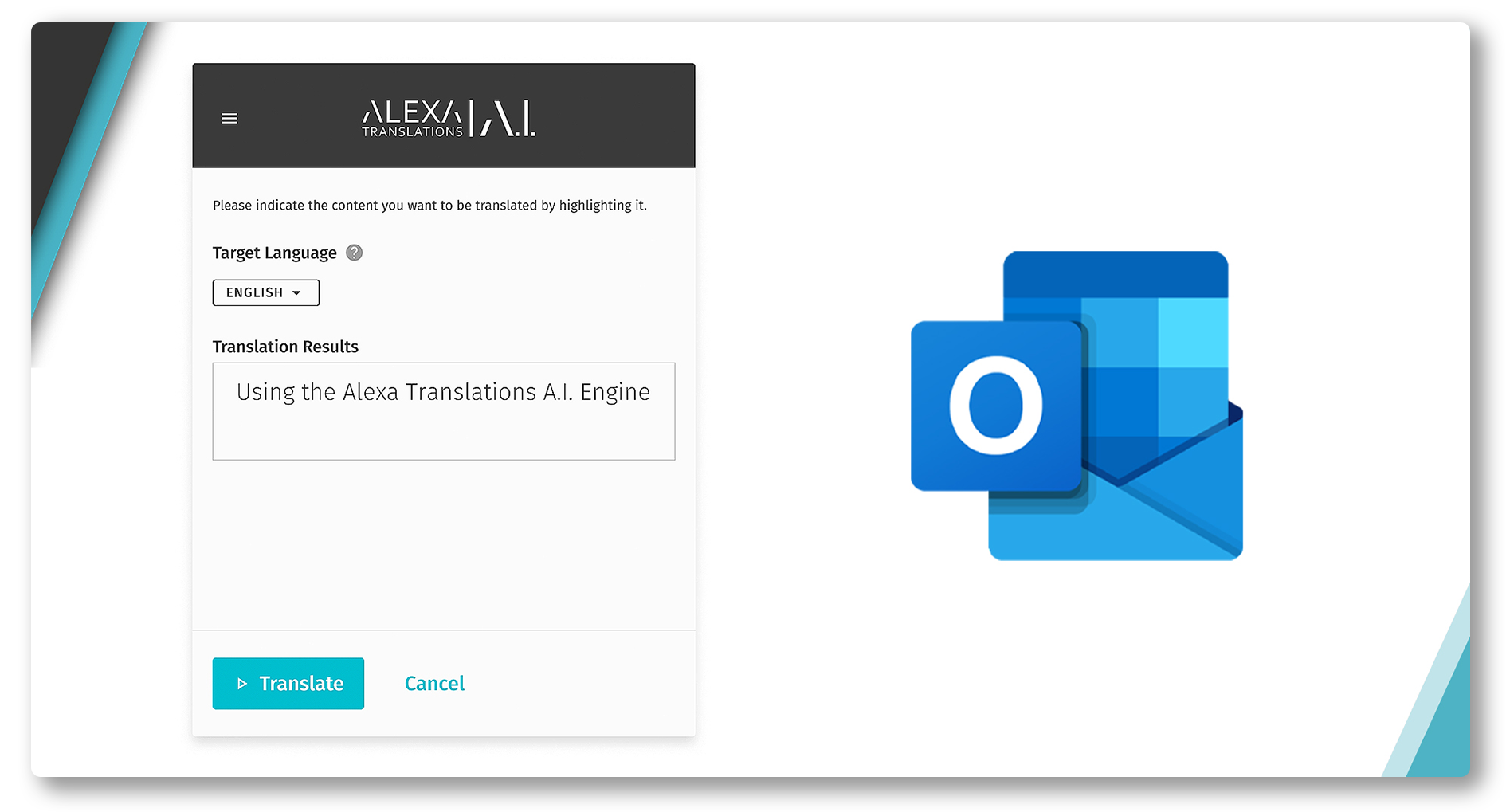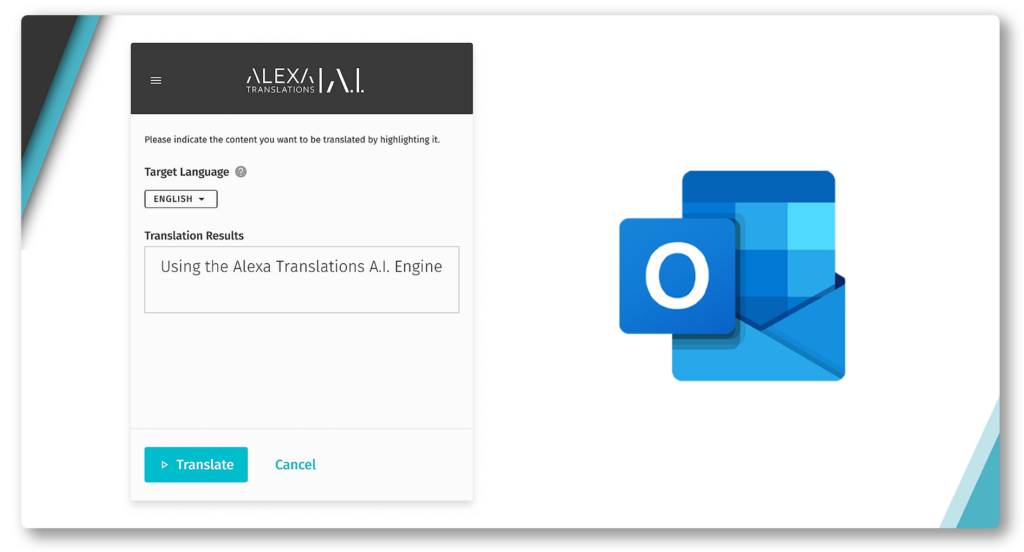 This translation functionality can be applied to received emails, as well as those being sent, improving user accessibility and comprehension across language barriers, creating effective communication and collaboration locally and globally.
Transcription Redaction
Because we understand the importance of confidentiality and security across industries, we have added Transcription Redaction to give users the ability to automatically remove sensitive information from audio and video file transcripts.


This new feature protects your sensitive information and prevents its disclosure to unauthorized individuals. The types of Personally Identifiable Information (PII) that can be redacted include bank account numbers, addresses, and passwords, ensuring sensitive information is kept safe from start to finish.
Additional Updates
Alexa Translations A.I. is more accurate and easier to train than ever before.
To improve the user experience of key tools on our A.I. platform, we have made several improvements to them, including the Term Base Creator, Translation Memory Creator, and others used to help train the platform.
The details of some of these improvements include:
TM Creator, TM Cleaner, and TB Extractor - these important tools have all been updated to give users a pleasant experience, while reinforcing the ideal workflow of the platform.
TM/TB Disambiguation Report - this report helps to ensure TMs and TBs are properly maintained, removing translation conflicts should they arise.
TM/TB Document Level Translation - this element helps to ensure each segment within a document is translated in the context of the whole document, maintaining consistency of terminology and ensuring the best document-level translation quality.
The result of these improvements is increased efficiency and accuracy across your translation projects.
Leveraging our professional translators for translation reviews is as easy as 1, 2, 3.
Whether the number of translations is too high or the time to review is too little, we understand that there can be a need to escalate translation reviews to our expert professional translators.
To better facilitate this, we have improved how our professional translators can engage with translations from the Alexa Translations A.I. platform, giving them access to client-account-level TMs and TBs to ensure the ultimate accuracy.
Improved collaboration and improved security.
To improve the functionality of our platform for teams of all shapes and sizes, we have added new types of user roles. Each user role also has the ability to be customized with specific permissions to cover the individual needs of each client and the translation projects they work on.
Not only do the new user roles and permissions give fewer users access to account-wide settings, it also allows them to access more core functionality, while maintaining security via controlled access on a case-by-case project basis.
Would you like to learn more?
Contact our team today to schedule a demo and try each of these exciting new features out for yourself.