Over 50% of Canadian businesses have adopted A.I., according to Borealis AI & Maru Report.
Are you one of the businesses that have embraced A.I. to boost efficiency? Or has your organization taken the wait-and-see approach?
For companies that have delayed exploration of A.I., there is a real risk of being left behind by competitors who are leveraging the amazing tools at our fingertips.
One of the best uses of A.I. is machine translation, which can help your team translate large amounts of text quickly and accurately.
This trend has been steadily growing in the legal and financial sectors, where an increasing number of businesses leverage A.I. translation solutions to save on costly, time-consuming translation projects without sacrificing quality.
While A.I. machine translation can help improve productivity and allow businesses to keep costs low, some executive decision-makers are often concerned about implementing a new platform.
Automated Translation vs. Machine Translation - How Do They Differ?
Automated translation simply refers to an automatic workflow baked into a CAT (computer-assisted translation) tool, allowing translators to automate certain repetitive tasks.
Automated translation is designed to speed up the translation process, allowing translators to automatically use triggers to add text, such as a disclaimer, into a document.
Neural machine translation (NMT) represents a huge leap forward from automated translations.
NMT is exceptionally efficient in terms of speed, accuracy, and workflow, which is why it is used by translation teams at the likes of Amazon, Google, and Microsoft
NMT is effective because it uses A.I. to learn languages, including contextual phrases over time. In fact, this process is quite similar to the way neural networks work in your brain.
The Alexa Translations A.I. also uses neural machine training, since it is faster, more accurate, and much more scalable than professional (human) translators and automated translations, combined. It is for these reasons that more and more companies are transitioning towards A.I. translation tools.
However, if you are considering the use of A.I. translations moving forward, taking a calculated approach is critical to ensure successful deployment.
Are you ready to get started?
Here are seven steps to help you successfully implement A.I. translations into your existing workflows.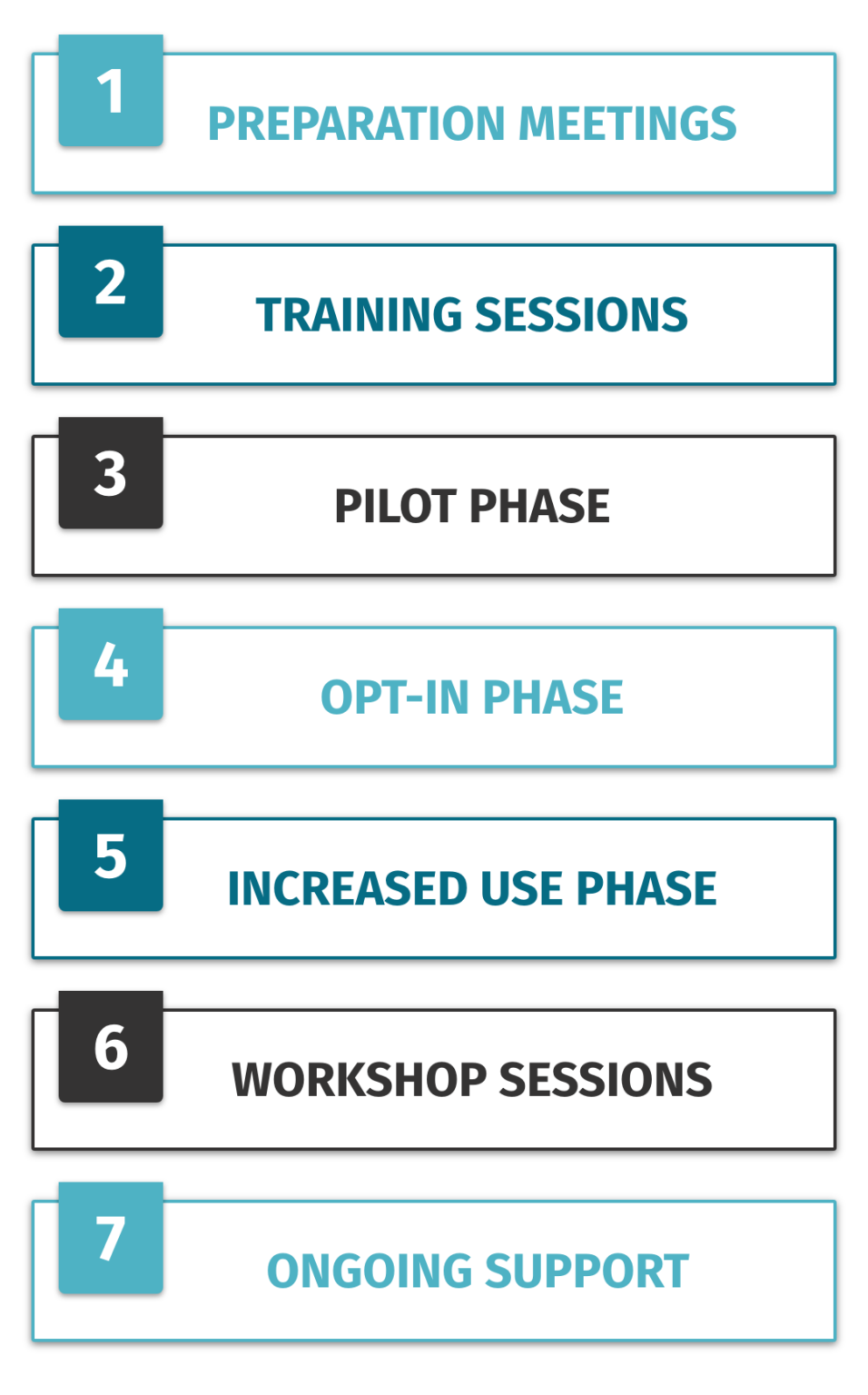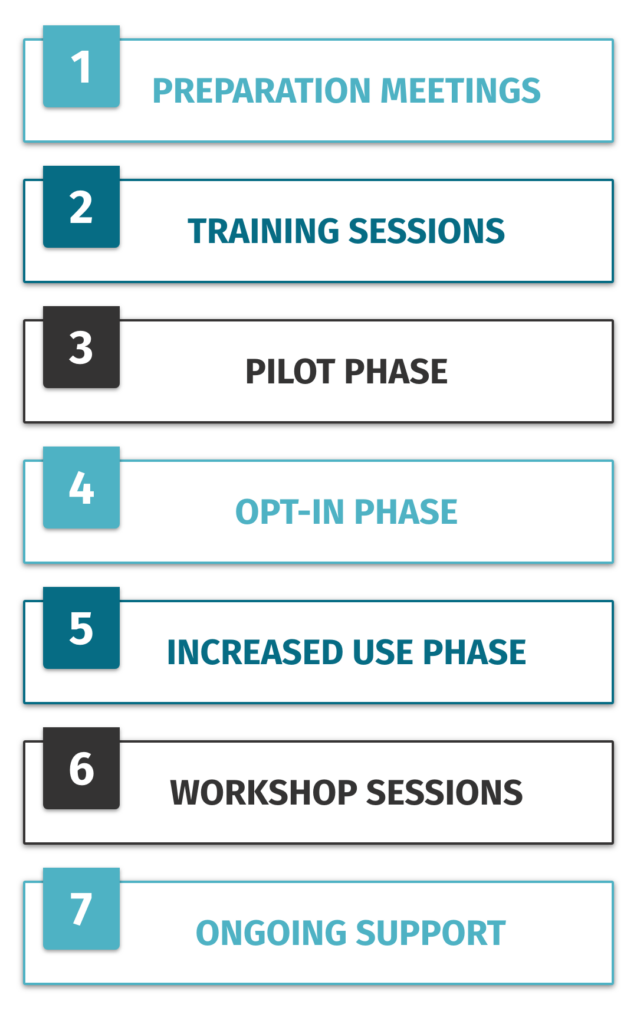 How to Successfully Implement A.I. Translations in 7 Steps
Preparation Meetings
The first step is to conduct preparation meetings to establish a training schedule with your translation partner.
For instance, at Alexa Translations, we will work closely with you and your team to build your perfect training plan. This means you'll have the highest likelihood of success when using A.I. for translation projects.
We then review technical requirements and previous translations to help train the A.I. tool for your specific needs and standards. This is a good opportunity for your team, from users and key decision-makers, to understand the platform better.
We take this time to answer any questions and introduce the Alexa Translation team you will be working with. After all, it is critical that you feel comfortable with the platform and know who will be supporting your projects.
Training Sessions
You cannot expect everyone to adopt a new A.I. translation solution immediately. Training is necessary to help users get acquainted with the software's features.
The best approach is to start by training a small team that includes your employees who are more willing to try out new technologies. These "innovators" or early adopters can play an important role in increasing adoption during the first few weeks.
The next step is to hold larger training sessions, focusing more on early adopters and leaders within your company. The larger group can then leverage the more experienced innovators within your for hands-on training and support, in addition to the ongoing assistance you will receive from your translation partner.
A phased approach is often beneficial and helps employees better understand the tool, especially as they see others using it in the organization.
Pilot Phase
During the initial pilot phase, your management team must encourage your initial users to monitor how they leverage the software and share their recommendations for improving its use.
These individuals are ready to invest the time and energy needed to provide the machine with reliable data so it may be trained.
Encourage them to act as ambassadors and to convince their more skeptical peers of the advantages of A.I. translators. The long-term benefits of learning how to leverage A.I. will be well worth it.
Opt-In Phase
Make the software easily accessible to all users who opt to utilize it. Allow your team to practice using the software on isolated projects in a secure setting without being under time constraints to deliver client results.
After all, hands-on experience is often the best training for new technologies.
Increased Use Phase
Make the software accessible by default. Encourage your ambassadors to share why they like the software and what they use it for. Social proof will often break down the barriers put up by late adopters or laggards and convince more people to try out the platformcan .
Workshop Sessions
Also considering holding workshops regularly with your different teams. These workshops can be designed to promote increased use of the platform and to address any queries that users may have.
If you partner with a full-service translation partner, they will help facilitate these meetings for you.
For instance, at Alexa Translations, we conduct workshop sessions in groups. These are dedicated sessions where users can see the platform in action, evaluate its functionality, and understand key features like term bases and translation memories.
Ongoing Support
Perhaps most important of all: find a translation partner that offers ongoing support, as users will have questions about the platform from time to time.
You will likely have internal resources who will serve as subject matter experts, but there is no substitute for a good client support team provided by your technology partners.
The Alexa Translations A.I. is used by some of Canada's leading financial and legal entities, and we work closely with each client to ensure successful implementation.
This means tools, training and support, tailored to the needs of each client that partners with us, along with account managers and a tech team that is willing to address all questions that may arise.
Simplify Workflows and Maximize Cost Savings with A.I. Translations
More and more companies are now leveraging artificial intelligence to streamline workflows and make existing processes more efficient. Once implemented successfully, A.I. translations can
Our team at Alexa Translations will help you at every step to ensure successful implementation, resulting in reduced costs, higher productivity, and more accurate translations in the long run.